After impressing against Morecambe in the FA Cup on Sunday 10th January, Lampard was upbeat about the chances of the pair starting games for Chelsea.
In Chelsea's comfortable 4-0 victory over Morecambe from League Two, Billy Gilmour and Callum Hudson-Odoi's performance have earned praise from under-fire manager Frank Lampard.
Both impressed in the Premier League side's dominant 4-0 win over League Two club Morecambe in the FA Cup third round.
When asked, Manager Frank Lampard admitted that they were going to give him a selection headache.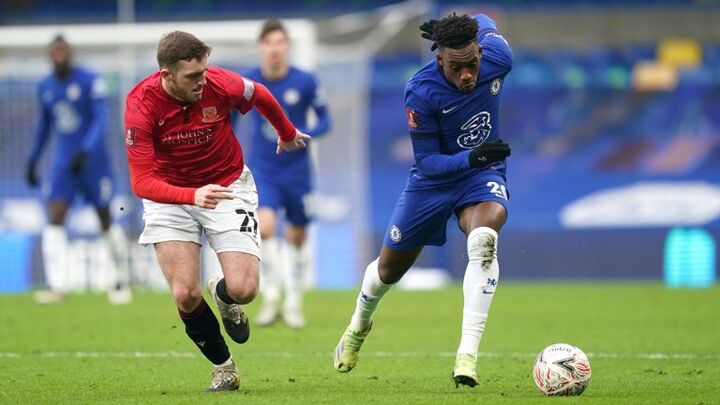 This is coming after Hudson-Odoi scored his second goal in two matches while Gilmour made impressive back-to-back appearances after coming off the bench in Chelsea's 3-1 defeat to Manchester City.
Here's what Frank Lampard had to say
"Callum is improving and improving, yet there is also much more to come from Callum," said Lampard. "I think his application in training, his desire to look at his game, is great.
"And his goal was a fantastic example of someone running to break the lines and ending up where a striker would be. That is what modern-day wingers have to do.
"In terms of how long until he makes his case, he's making it now. In this team, we have three natural wingers and another who can play in that position.
"At times I am going to have to make selection decisions and sometimes he will be in, and other times he won't be.
"But right now the way he is playing, he's assisting and scoring goals and that is making me happy.
"There has been an uplift from Callum and there are more gears for him to go up. When he is playing like he's playing, it's good to expect more from him.
"I think Billy Gilmour is pushing too and I think Billy has been pushing since he made his breakthrough last season against top-level opposition Liverpool.
"He played brilliantly then, got man of the match, and reproduced that against Everton, but then his injury came pretty soon after that.
"From those moments and even before, I knew Billy would be a very, very good player for this club, to say the least, even at his young age.
"He came in and moved the ball well and he did it when he came on against Man City last week."
Final Notes
With the Blues presently struggling, new faces in the team like that of Hudson-Odoi and Gilmour in the team may be the magic trick needed to spark a run of good form.